The Synopsys Journey to Financial Wellness
Case Study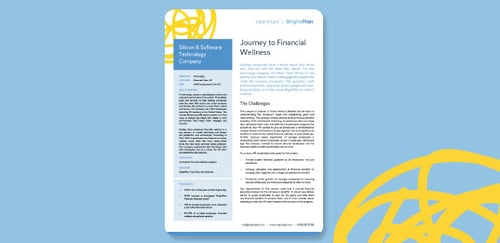 Synopsys, a Silicon Valley technology company with over 4,000 employees, needed to find ways to attract top talent and create a work environment that keeps employees engaged and focused. With a mix of financial benefits ranging from 401K contribution matching to deferred compensation programs for executives, they wanted to give all employees access to a comprehensive solution that improves their overall financial wellness.
Read this case study and learn about:
The challenges they were faced with and why they explored adding a Total Financial Wellness solution to their mix of benefits
The goals and key requirements they defined for a solution, and how BrightPlan checked these boxes
How they delivered a highly competitive financial wellness benefits package to employees with 20% of the workforce enrolled and growing
Disclosure: This case study includes a statement about BrightPlan made by a current client. BrightPlan did not provide any compensation in exchange for this statement.