Panel Discussion: Women and Money
webinar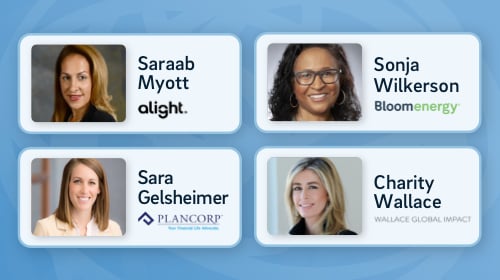 The COVID-19 pandemic disproportionately impacted women―particularly women of color. Women suffered a higher number of job losses, spent more time on childcare, and many dropped out of the workforce altogether. The events of 2020 highlighted the importance of well-being and specifically financial wellness in this mix.

With many women realizing that they need to get their finances in order and build a safety net to feel secure, more and more forward-thinking organizations are taking a proactive role in supporting financial wellness initiatives.

But how?

During this panel discussion you will hear from a diverse group of women about their relationship with money―the role finances play in their personal and business lives, how they've overcome the odds to achieve financial security, and tips for building wealth despite the gender wage gap.

Panelists:
Saraab Myott, VP, Health & Wealth Solutions, Alight Solutions
Sonja Wilkerson, EVP, Chief People Officer, Bloom Energy
Sara Gelsheimer, Sr. Wealth Manager, Plancorp
Charity Wallace, Founder & President, Wallace Global Impact
Disclosure: This session includes statements about BrightPlan by current clients. BrightPlan did not provide any compensation in exchange for these statements.