Aragon Research: Hot Vendors in Financial Wellness 2020
Analyst Report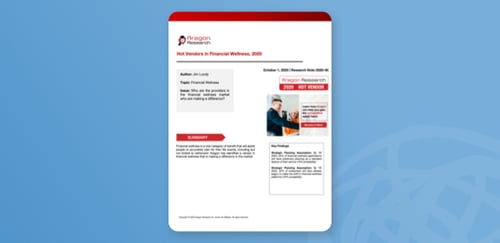 Since the Covid-19 pandemic, interest in employee financial wellness is on the rise. Aragon Research, a leading analyst firm, has identified financial wellness as a new category, one that is key to your future employee engagement strategy. If you're not already helping your employees be better prepared for their future, and improve their financial well-being, now is the time to start.

In this Aragon Research "Hot Vendors" in Financial Wellness 2020 report, you will learn about:
Why financial wellness is a benefit you should offer your employees
The four aspects of financial wellness that enterprises need to consider
The various eras of financial wellness through the years
What makes BrightPlan a Hot Vendor in Financial Wellness

Disclaimers: Awards are not indicative of future performance. Awards and Other Recognitions should not be interpreted as a guarantee or suggestion that a client or prospective client will experience a certain level of results if our firm is engaged, or continues to be engaged, to provide investment advisory services, or as an endorsement of our firm by any past or present client. None of the sponsoring publications or organizations are affiliated with our firm, none of the Awards or Other Recognitions are based on client evaluations of our firm, and we have not made any payments for or in anticipation of any Award or Other Recognition.