Ellucian Enables Employees to Thrive
Case Study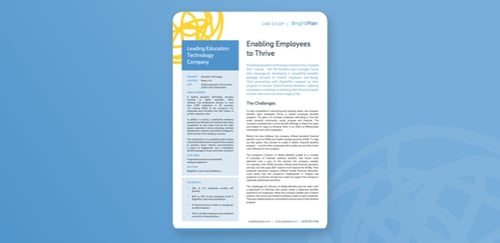 Ellucian's Mission to Enhance Employee Financial Well-Being
When Ellucian embarked on a mission to increase employee well-being, they looked internally at their benefits offerings and set a course to enhance them. Where financial benefits were concerned, they looked for a holistic solution that would serve the needs of all their employees.

Read this case study and learn about Ellucian's:
Challenge of fragmented solutions and disjointed experiences
The key components they looked for in a solution, and a partner
The benefits they experienced, and the effect it's having on employee financial well-being
Disclosure: This case study includes a statement about BrightPlan made by a current client. BrightPlan did not provide any compensation in exchange for this statement.