What's Top of Mind for HR Leaders: Industry Roundtable
webinar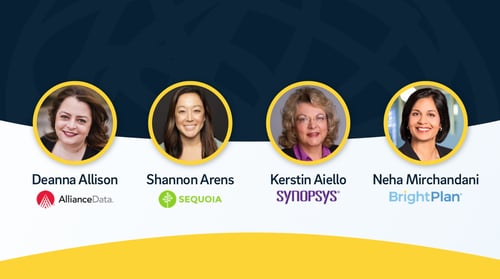 There has never been a more strategic time for HR leaders. Employers worldwide are elevating people-related issues to the top and placing a priority on solving the most pressing challenges faced by HR leaders today. These challenges encompass the entire employee experience―from attracting and retaining talent to employee engagement and holistic wellness to diversity, equity and inclusion―and have a sizable impact on the business.
During this industry panel featuring Deanna Allison, Senior Manager of Benefits and Financial Wellness at Bread Financial, Shannon Arens, Wellbeing Consultant at Sequoia Benefits, and Kerstin Aiello, Director of North America Benefits at Synopsys, the panelists shared their perspectives on:
Attract & retain talent: How to build a reputation for stellar culture and a great place to work.
Employee experience & engagement: How to bring empathy, care and a more human experience into the workplace.
Holistic well-being: How to best support employees' overall well-being and enable them to bring their best selves to work.
Diversity, Equity and Inclusion: How to foster a culture of inclusiveness and belonging so that every individual feels welcome.
---

Disclosure: This webinar may include statements about BrightPlan by current clients, BrightPlan did not provide any compensation in exchange for these statements.