What's Top of Mind: How Economic Uncertainty is Impacting Employee Engagement
webinar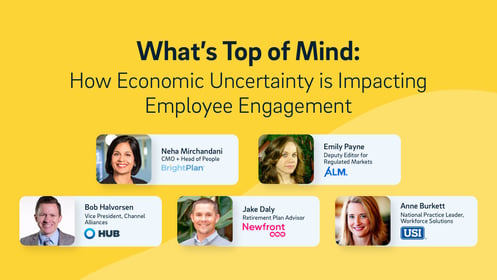 The past few years have created unprecedented challenges for employers, HR teams and the employees they serve. With rising inflation, increased market volatility, and mounting employee stress, employee wellness and fostering a culture of care and belonging are critical to keeping employees happy and engaged.
Join Neha Mirchandani, CMO & Head of People at BrightPlan, Emily Payne, Deputy Editor Regulated Markets at ALM, Jake Daly, Retirement Plan Advisor at Newfront Insurance, and Anne Burkett, National Practice Leader, Workforce Solutions at USI Insurance Services for an insightful discussion on what's top of mind for employees and HR leaders in the current market environment, and the latest trends related to employee well-being.
This on-demand webinar will also delve into key insights from BrightPlan's 2022 Wellness Barometer Survey looking at the state of wellness in today's workplace.
In this session, you will learn about:
The impact of rising inflation on employees' health and wellness -- and the high cost of financial stress for employees and employers
What innovative benefits employees want and the role of employers in supporting them
Why prioritizing employee wellness and engagement, and fostering a culture of care, is critical and can lead to positive business outcomes