An Interview with Rachel Roop: How a Passion for Knowledge & Access Led Her to BrightPlan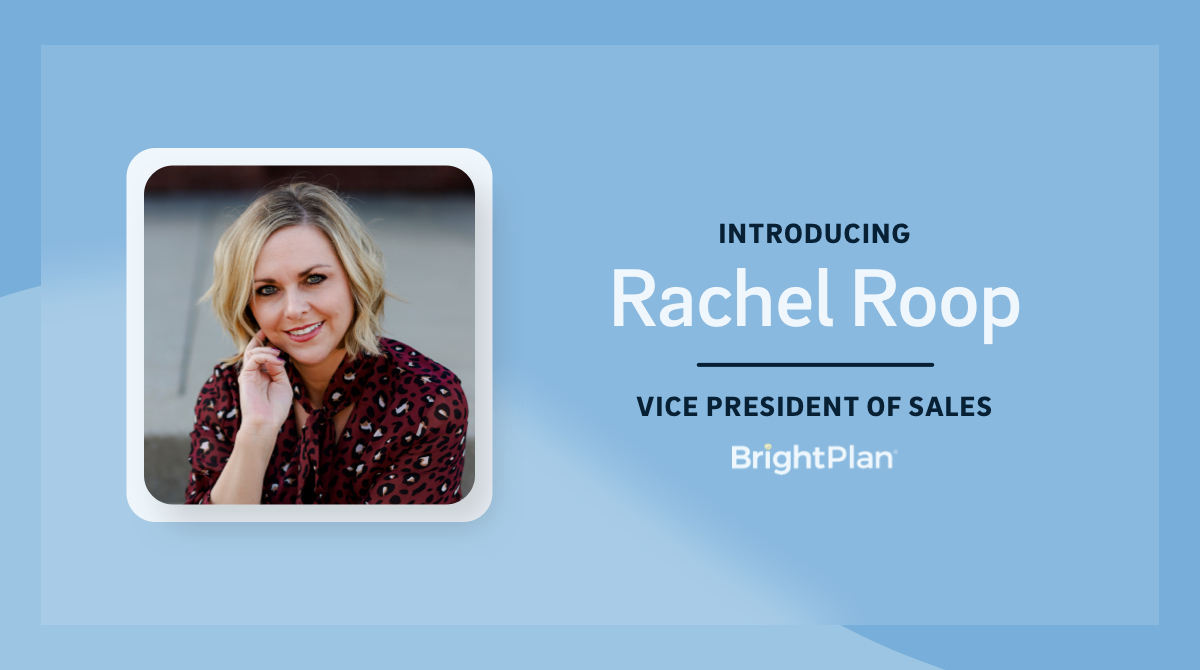 Our Q&A series gives you a behind the curtain look at life at BrightPlan. Hear from our team members on why they love the work that they do.
Get to Know Rachel:
Rachel is the VP of Sales at BrightPlan. In her role, she is responsible for all the direct sales revenue for BrightPlan. Rachel works from her home office in Kentucky.
Rachel started her career as a high school English teacher. It was in that role that she realized how important it is for people to have equal access to education and development opportunities. Following a relocation, she decided to change careers and entered the HCM industry where she held business development and sales leadership roles at ADP and Ascentis. She quickly realized she has a passion for helping HR teams elevate their workforce through technology. Prior to BrightPlan, Rachel was VP of Sales for the East Coast at Ascentis.
Rachel has a passion for learning and development and equality. To her, a critical function of relationships is being able to learn from others and then to transfer that knowledge to more people. As a teacher, she saw that not everyone had equal access. Rachel works really hard to ensure that everyone has equal opportunity and access to education and knowledge regardless of where they come from.
In her spare time, Rachel loves to travel. In the past year, she's been to Israel, Costa Rica and St. Lucia. She also loves history and enjoys reading and writing poetry.
Fun fact: You will often find Rachel with headphones on. She is addicted to podcasts! On average, she listens to about five podcasts per day spanning all sorts of topics.
Q: What made you decide to join BrightPlan?
A: Growing up, my father managed our household finances. I wasn't taught financial wellness. It's something I had to learn the hard way. I joined BrightPlan because of the mission: to democratize financial wellness for all and to bring access to a solution that's truly life-changing to so many people. Also, the opportunity to work alongside so many intelligent people with such a high level of integrity makes it fun. I'm at a point in my career where making an impact and feeling joyful about what I do everyday is really important to me.
Q: What does Total Financial Wellness mean to you?
A: It's about visibility into your financial situation paired with actionable advice. Financial wellness isn't about paying your bills once a month or meeting with a financial planner once a year. It's about visibility each and everyday–whether that means tracking spending or consuming education. This is what allows you to make incremental and actionable progress, truly impacting overall wellness.
Q: What does a typical "day-in-the-life" look like for you?
A: Besides listening to podcasts, a typical day starts off with plugging in with my team. I'm on a lot of sales and partnership calls strategizing about conversations to have with our key targets and how to educate the market on what we do and how BrightPlan can help solve key business and HR challenges.
Q: What do you love most about the work that you do?
A: The mission. I love knowing that our solution makes a positive impact on the world. Having that as the foundation is what keeps me going. Education, skill development, strategy - that's all fun and necessary work, but that's really just the icing on the cake when you believe in the solution you're providing.
Q: Any final thoughts?
A: Given the changing landscape that HR teams are challenged with coming out of COVID, and the increasing importance of mental health, holistic wellness and diversity, equity and inclusion (DE&I), it feels so good to be part of a solution that can fill such a large need. Especially when you think about how we're providing HR teams with anonymized and aggregated data and insights that can help them make decisions around other investments in employee well-being. We're really on the cutting edge of improving the employee experience and overall employee well-being.
Stay tuned for more employee spotlights in our Q&A series. If you're interested in learning more about life at BrightPlan, visit our Careers page.