An Interview with Sweta Shahi: How a Drive for Impactful Work Led Her to BrightPlan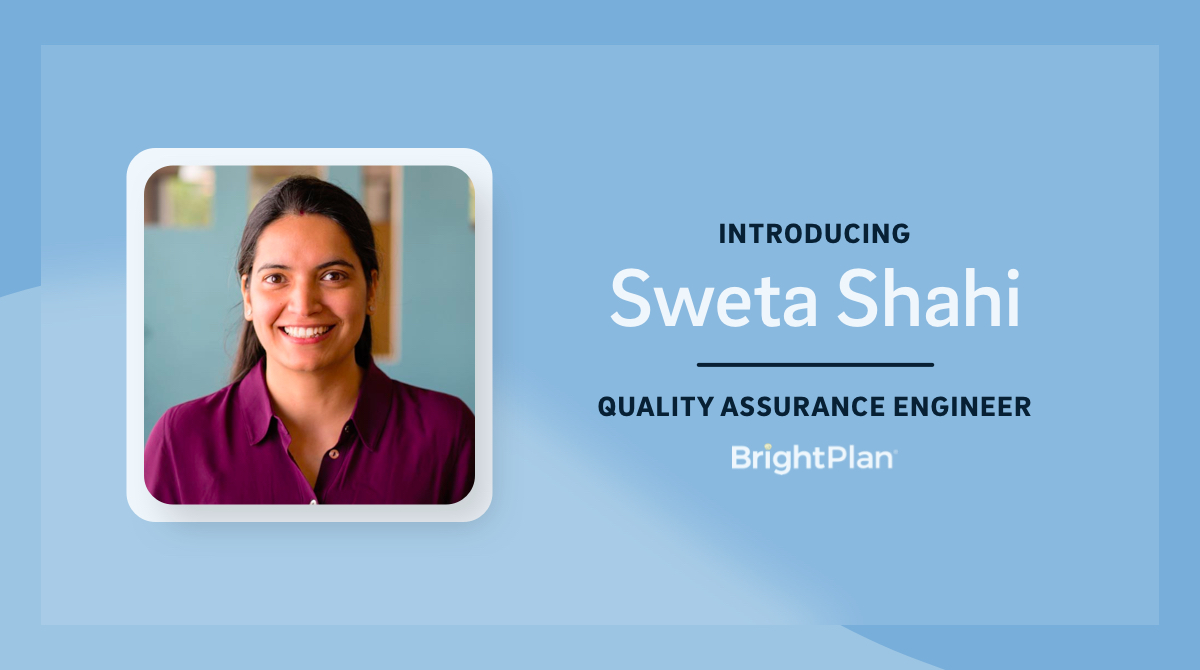 Our Q&A series gives you a behind the curtain look at life at BrightPlan. Hear from our team members on why they love the work that they do.
Get to Know Sweta:
Sweta Shahi is the Quality Assurance Engineer at BrightPlan. In her role, she is responsible for testing new product features and for overall product quality at BrightPlan. Sweta works from her home office in the San Francisco Bay Area.
Sweta has spent most of her career working at start-ups and has worn many hats, with a primary focus on product testing. She thrives in an entrepreneurial environment and feels she can make a bigger impact when she's part of a small mission-driven team.
Fun fact: Sweta loves movies and TV shows and enjoys binge-watching Masterchef Australia, Ozark, Silicon Valley, and crime documentaries whenever she can find the time.
Q: What made you decide to join BrightPlan?
A: I joined BrightPlan five years ago as the first woman hired on the engineering team. BrightPlan was my first job in the U.S. When I moved to the country, I was looking for an opportunity with a start-up. I was really drawn to BrightPlan because, at the time, there was no testing team in place. I knew it was a great opportunity to build a team from scratch and have ownership over the direction and outcomes of our work.
Q: What does Total Financial Wellness mean to you?
A: Not having to worry about finances and stressing about money in everyday life. It's about having the peace of mind that everything is taken care of. It means having an emergency fund and that plans for important life goals, like retirement or buying a house, are on track.
Q: What does a typical "day-in-the-life" look like for you?
A: My day starts with organizing my tasks. Typically, I begin with reviewing test automation scripts the team writes and then participating in status calls. Then, I work through everyday tasks, like testing new features, creating testing plans and helping the team debug any issues that arise. I also work very closely with the product team, discussing and clarifying requirements. And finally, my day always ends with a walk. No matter how busy I am, I make sure to decompress and end my day with an evening walk.
Q: What do you love most about the work that you do?
A: I take pride in the fact that something I work on, or an issue I solve, helps improve the product quality and results in a better experience for the employees that use our solution. My hope is that this positive experience drives our clients to use BrightPlan on a consistent basis and, ultimately, improve their financial well-being.
Q: Any final thoughts?
A: BrightPlan has a great work culture. Everyone is collaborative and you can reach out to one another for help and support. The people really are the best part of working at BrightPlan. Another important component of our culture is the mission. Being able to make an impact on people's lives and help them solve their financial challenges is so rewarding. At BrightPlan, I feel like I am part of the solution.
Stay tuned for more employee spotlights in our Q&A series. If you're interested in learning more about life at BrightPlan or in one of our open engineering roles, visit our Careers page.