Vivian Nguyen: How a Passion for Start-Ups Led Her to BrightPlan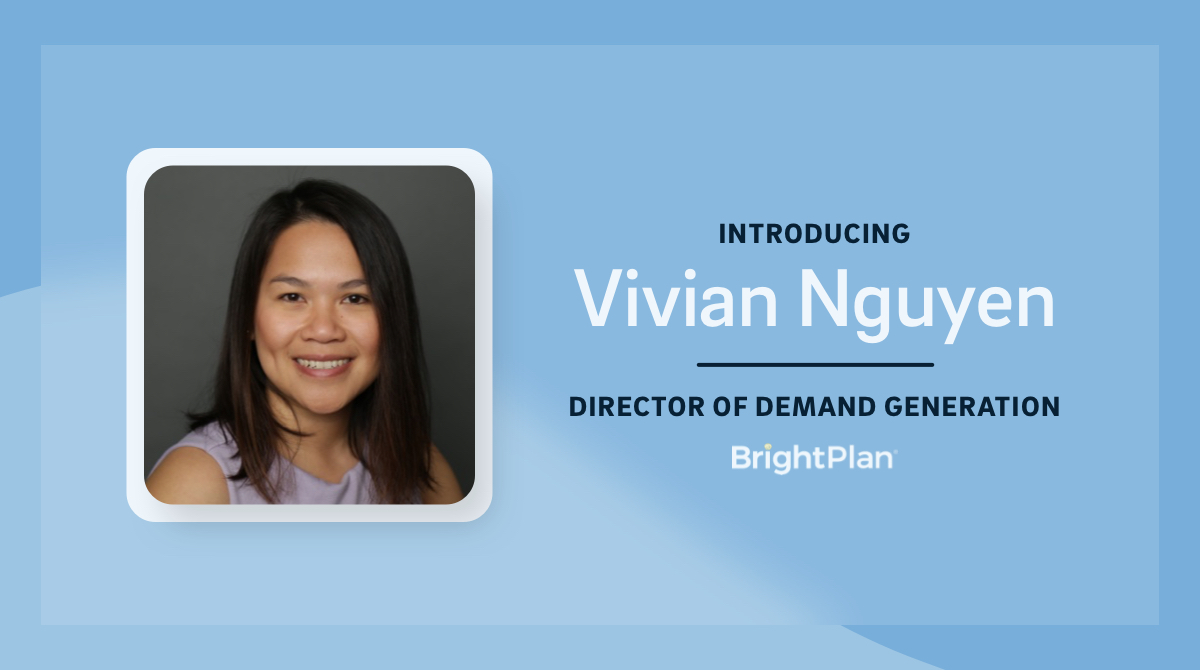 Our Q&A series gives you a behind the curtain look at life at BrightPlan. Hear from our team members on why they love the work that they do.
Get to Know Vivian:
Vivian is the Director of Demand Generation at BrightPlan. In her role, she is responsible for the strategy and execution of demand generation programs for the company. Vivian works from her home office in Orange County, California.
Vivian has strong experience in digital and growth marketing. Prior to BrightPlan, she held marketing roles in the tech industry, including serving as Director of Demand Generation at Brainbase and the growth marketing lead at LightBox. While she has deep tech experience, Vivian started her career in the franchise space. Since franchise models are built on taking one successful business and turning it into many, it was there that she realized the power of replicating processes and systems. She enjoys building and implementing processes to help teams be more efficient and productive.
Vivian has a passion for start-ups. In her free time, she loves to participate in start-up weekends and hackathon events. She feeds off the excitement of pitching an idea, building a team, executing on a plan, and having a minimum viable product to present to investors in just three short days. It's through these events that she's also honed her communication skills and learned to work with a team to execute on something in a short period of time. She has even had the honor of coming in first in one of these competitions!
In her spare time, Vivian enjoys playing board games/card games/video games and participating in escape rooms.
Fun fact: Vivian has completed 40 escape rooms and has a 90% escape rate!
Q: What made you decide to join BrightPlan?
A: The mission and the product. It's something I really believe in. I'm personally committed to learning more about the financial market and being more financially responsible. I've never seen a solution like BrightPlan before and I'm excited to become more financially savvy.
Q: What does Total Financial Wellness mean to you?
A: The ability to do what I want to do in my life, and what I need to do for my family, without worrying about whether or not I can afford it. Ultimately, Total Financial Wellness allows you to spend more time on the things that you love most.
Q: What does a typical "day-in-the-life" look like for you?
A: Lots of data analysis, looking at what's working and what's not, and conducting research to find potential sources for driving demand. I spend a lot of time looking at the market and how people are responding so that I can adjust my strategy for educating prospects on who we are, what we do, how we're differentiated and can help solve their biggest challenges.
Q: What do you love most about the work that you do?
A: That it's so busy and intense, but that's what gives me the rush. The reward is finding the right prospect at the right time and generating high quality leads for sales. You're not only solving a problem for the customer, you're also helping your company and team grow.
Q: Any final thoughts?
A: It's so exciting to be at BrightPlan right now. We're in such a relevant market space with wellness, and specifically financial wellness, being top of mind. We're really primed to help HR leaders who are looking for solutions to enhance the employee experience and improve their team's holistic well-being. Given recent market volatility and heightened inflation, finances are top of mind for many employees. HR can offer solutions to help their teams be more financially confident.
Stay tuned for more employee spotlights in our Q&A series. If you're interested in learning more about life at BrightPlan, visit our Careers page.a