Financial Wellness: Why It's Key to Diversity, Equity and Inclusion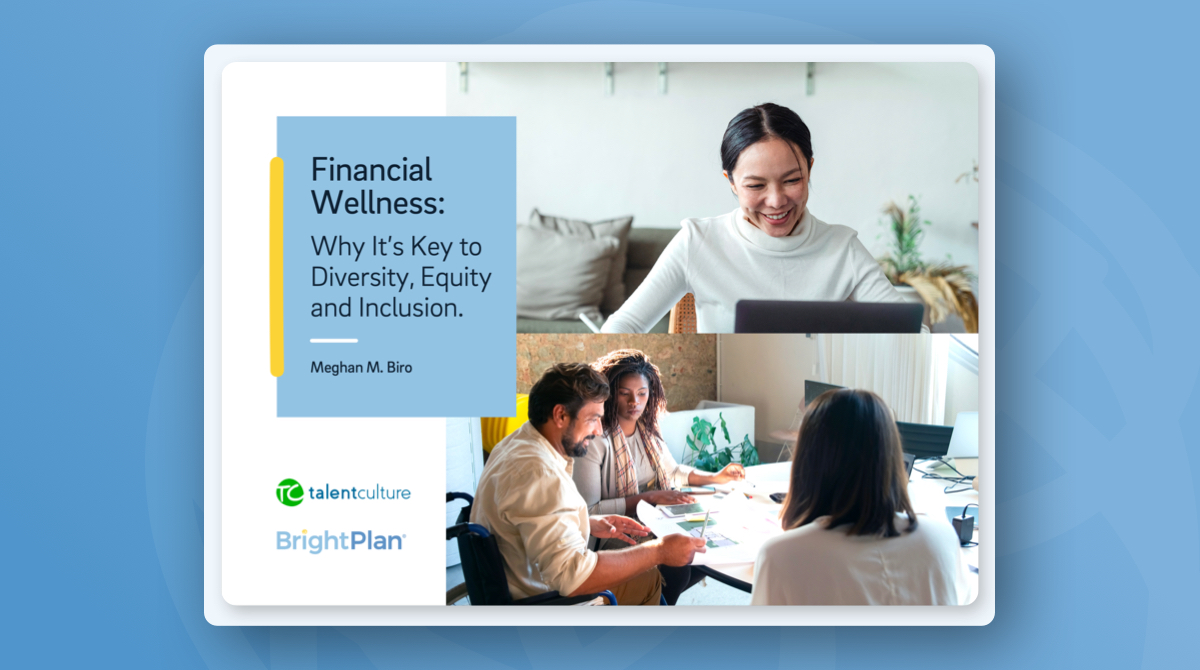 The events of 2020 urged many employers nationwide to increase their commitments to Diversity, Equity and Inclusion (DE&I). It has also exposed the pandemic-fueled economic downturn's inequities, which has disproportionately impacted underrepresented communities such as women.
For HR leaders, at the heart of the need to better engage the whole workforce — including people of color and underrepresented communities — is supporting their ability to meet financial challenges, such as managing emergency savings, debt and building credit, planning for retirement, and growing wealth for future generations. It means enabling and empowering employees to navigate their financial lives with confidence.
A new eBook, "Financial Wellness: Why It's Key to Diversity, Equity and Inclusion" authored by HR Tech influencer Meghan M. Biro, delves deeper into these topics and highlights the importance of financial wellness as part of a company's DE&I efforts.
Engagement, Well-Being, and Inclusivity
HR leaders are well-aware of the critical role employee engagement plays in business success and how employee experience and well-being form the foundation for engagement. DE&I initiatives are crucial because employees cannot be fully engaged if they do not feel they are included and belong in their organization's work culture. This phenomenon is even more relevant today, as it can be challenging to feel a sense of belonging in a remote environment, leading to eroding engagement.
In the broadest sense, engagement is about inclusion. When an employee feels supported as part of an inclusive and diverse community, the metrics on engagement — and performance — inevitably rise. Inclusive teams make better business decisions up to 87% of the time, and inclusive teams outperform their peers 80% of the time. Inclusivity is a win-win for employees and employers.
Inclusivity and Financial Well-Being
Creating an inclusive work environment extends beyond just hiring and pay. True DE&I should also include access to benefits and programs that help create a sense of security―especially financial―as finances continue to be a source of stress, with 63% of Americans living paycheck to paycheck. Employees from underrepresented backgrounds should be given the same tools and opportunities as those from other backgrounds and get accommodations to leverage those resources with confidence.
Financial wellness benefits can help all employees, but they can be especially beneficial to women and people of color―who tend to be hit harder by economic downturns. Minority groups have fewer resources such as emergency funds and have been disproportionately impacted by job losses. Women are also more vulnerable as a group since they tend to be burdened by unpaid care for children or aging parents, leading to a much larger share of job losses than men. All employees can benefit from financial wellness programs, but women and underrepresented employees can benefit even more from such initiatives when they feel included.
The Power of Financial Confidence & The Role of Employers
Being financially well means having the confidence in your ability to cover everyday needs and reach your goals―giving the sense of security and peace of mind necessary to be fully engaged at work. Unsurprisingly, confidence has decreased since the onset of the pandemic and financial stress has surged.
Employees are increasingly looking to their employers for support. A recent survey found that 75% of retirement plan participants say an employer-sponsored financial wellness program would positively affect their financial stress. The same survey also found 90% of respondents saying it's important for employers to offer employees financial wellness programs.
Incorporating financial wellness as part of your DE&I strategy and being thoughtful about its implementation can help achieve business results and positively impact your employees and their families. Financially well employees contribute to an overall positive employee experience, leading to more productive and engaged employees. Outside of work, financially well employees can have ripple effects for generations as they build wealth―often for the first time in their families.
Empowering your people to overcome the grinding realities of financial stress is undoubtedly a net positive. Given the certain impact of financial stress on an employee's ability to focus and engage, providing a multi-dimensional and inclusive approach to financial well-being can free your workforce from the endless cycle of deficit and uncertainty — and enable everyone to feel supported, empowered, and hopeful about their futures.
Download the complete eBook to learn more about the role of financial wellness in Diversity, Equity and Inclusion