IDC Report: The Business Impact of Employee Financial Wellness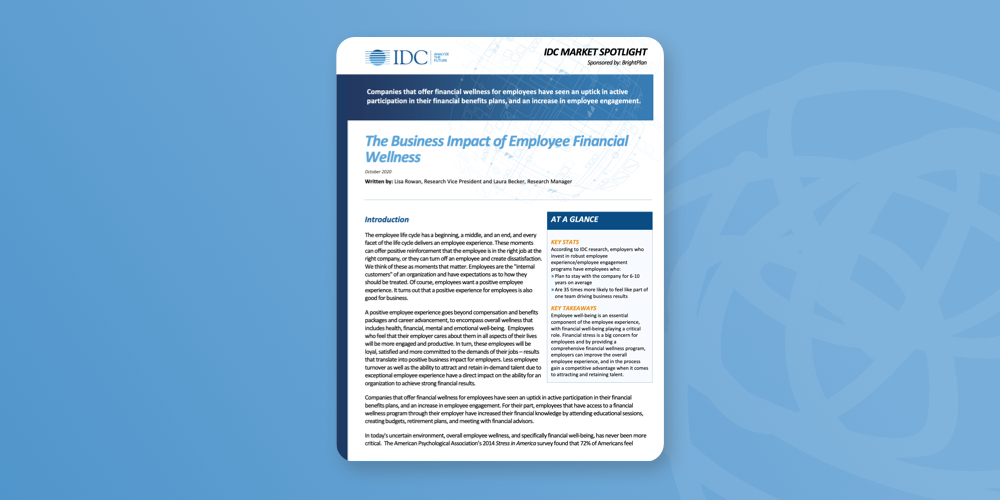 Employee experience is a key focus area for companies especially today, as it directly impacts productivity and engagement. According to leading market intelligence firm IDC, employers that invest in robust employee experience/employee engagement programs have employees who plan to stay with the company 6 to 10 years on average. These employees are also 35 times more likely to feel like part of one team driving business results.
Employee well-being is an essential component of the employee experience and a strategic imperative. A positive employee experience goes beyond compensation, benefits packages and career advancement to encompass overall wellness that includes health, financial, mental and emotional well-being. A new IDC Market Spotlight report, "The Business Impact of Employee Financial Wellness," highlights how financial wellness is central to any well-being program, as money is the number 1 stressor for Americans. Programs that help employees navigate their financial life can help create empowered, confident employees and go a long way in improving an organization's overall employee experience.
A Game Plan for Financial Wellness
Once your organization is on board with investing in financial wellness, how do you go about creating a game plan? IDC suggests developing a comprehensive initiative that includes education, financial services offerings such as budgeting and tracking, the rollout of digital tools and platforms, as well as access to human expertise. Some characteristics of a positive digital platform should include:
Self-explanatory: Easy to use systems and consumer-friendly interface
Self-aware: Incorporate employee characteristics and information to tailor programs to each employee
Self-service: Employees should be able to accomplish as much as possible at their own pace
Financial Wellness Market Landscape
The Financial wellness market has evolved rapidly in recent years. IDC breaks down the landscape into four key categories:
Solutions for only a subset of employees, such as high net worth executives or a tiered service based on seniority
Solutions that focus on education and coaching, pairing programs to increase employees' financial literacy with human coaches
Solutions that address only a single aspect of financial wellness, such as 401(k), student loan repayment, insurance providers, and many other specialists
Comprehensive solutions that are held to the fiduciary standard, which includes digital and human components, and cover a wide range of topics relevant to every employee, such as financial planning, investing, day-to-day money management
Each of the four categories has its pros and cons, and the report provides guidance on selecting the right solution to meet your company's needs.
Best Practices for Creating an Overall Financial Wellness Strategy
The report also shares best practices for creating a financial wellness strategy. IDC's guidance is to design your strategy around your employees' needs―typically by demographics. Companies whose average employee age is 26, for example, will have a different financial wellness strategy than those with an average employee age of 48. The former might need more help with student loans and an emphasis on digital tools. The latter might need more help with retirement planning and prefer a digital platform supplemented with a financial planner.

No matter what your employee demographics, employers that invest in their employees' financial well-being contribute to an environment where employees feel empowered and confident about their future. The benefits of a comprehensive financial wellness program are compelling for both employees and employers. For employees, improved employee experience, enhanced overall well-being, increased productivity and engagement are among the results of a financial wellness program. Employers can expect financial wellness programs to improve the overall employee experience―making employees more committed, loyal and productive.

Download the complete IDC Market Spotlight report to learn more about the business impact of employee financial wellness.