Navigating a Bear Market With Goals-Based Investing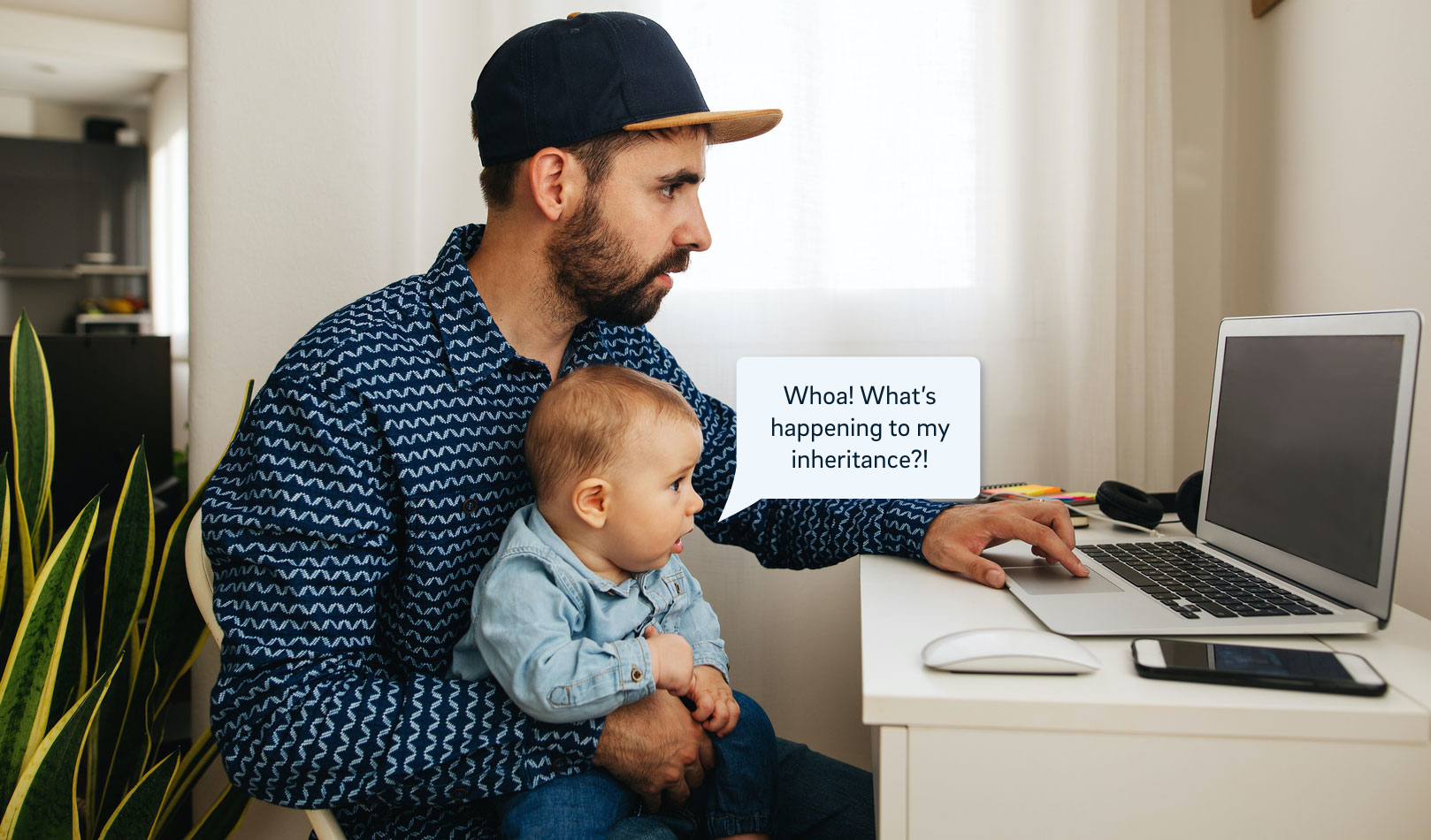 Mike Tyson famously said, "everyone has a plan until they get punched in the mouth." The pandemic has been quite the left hook, disrupting our schedules, businesses, schools, and certainly our finances.
Among friends and family I'm the "money nerd," which has led to many conversations about how to respond to recent stock market volatility. For my family this descent into a bear market has highlighted the importance of having a goals-based investment plan that can roll with the punches the markets throw our way.
As I've reviewed my own goal to buy a home soon, or my parents' goal to retire in the next couple of years, a strong plan has allowed us to remain confident in a disorienting situation. So today I want to invite you to take a peek into a goals-based financial plan, so you can see firsthand the benefits of this philosophy in a time of volatility.
What even is goals-based investing?
Goals-based investing is a commonsense way of encouraging good financial behavior. It answers "How should I invest?" By asking, "What goals are you investing this money for?" Goals-based investing works especially well in turbulent times because it assumes that market downturns will happen every once in a while, and plans accordingly.
From the start, goals-based investing has been central to the BrightPlan platform. It's so crucial to how we think about investing, that you can't see investment advice until you set a goal. To help you see it in action, let's review two of my goals together: buying a home this year and retiring in 30 years.
Two goals, two investment plans
First up, the short-term goal. For many months my wife and I have been saving up to buy a place. We plan on having a full down payment by the end of this year. For a short-term goal, the BrightPlan application recommends one of our most conservative Investment Plans, 100% Bonds.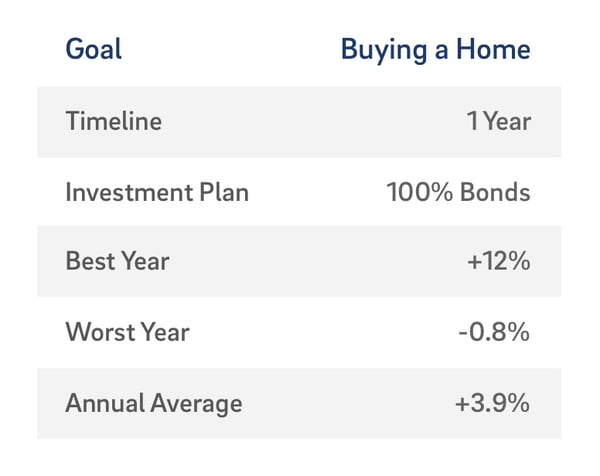 This Plan is defensive by design. It contains no stock market exposure. Even though historically stocks have had strong positive long-term returns, over a one-year time period they can suffer big losses. To give clients an idea for the risk profile of each Investment Plan, we publish the best, worst, and average returns over the past 28 years for each mix of stocks and bonds. As you can see, the greater the stock exposure, the larger the potential for losses over a 1-year time period.*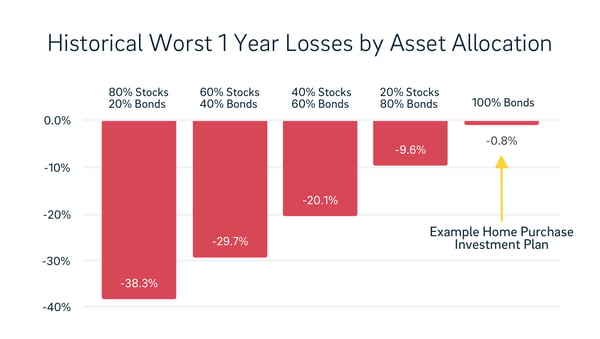 Notice the tiny red bar for the 100% bonds portfolio. The worst year of this mix of investments produced a 0.8% loss. For the sake of illustration, a $100,000 investment would have lost around $800 during that year. That probably won't impact a home purchase much. But what about the Aggressive 80% stock portfolio? It's worst year included a 38.3% loss, which would knock $100,000 down to $61,700.*
As we've seen recently, losses in the stock market can occur rapidly. If those losses come when you're about to start shopping for a home, there's no time to recover. You end up faced with a tough decision. You can either:
1) Delay your home purchase until your investments hopefully recover; or
2) Sell your investments at a loss, and buy a less expensive home or take out a bigger mortgage.
Neither option sounds appealing. Investing appropriately for a short-term goal, means favoring protection over growth. This portfolio is designed to decrease in value only slightly in a downturn. This allows a goals-based investor to breathe a sigh of relief, and keep moving confidently towards a new front door.
Investing for the Long-Term in a Retirement Goal
If you're an aggressive investor you may be wondering, "What about the upside of stocks? Does goals-based investing mean you miss out on bull markets because you are so afraid of a potential loss?" Nope. A Home Purchase goal is just one goal with one investment plan. BrightPlan provides each goal with its own investment plan based on the goal details and investor risk profile. A Retirement goal Investment Plan could look completely different when the money is on a different schedule.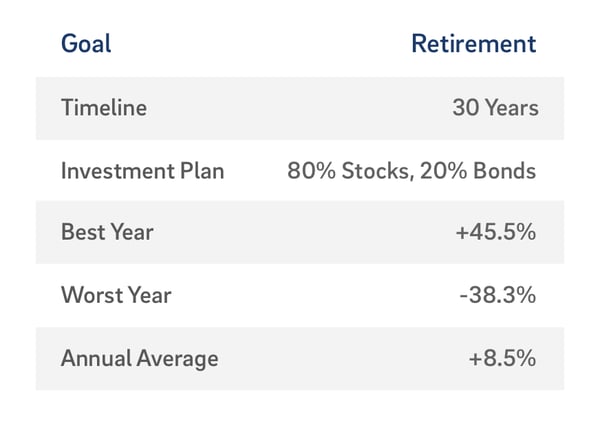 In this example, the investor has three decades to invest for retirement, and an aggressive risk profile. BrightPlan recommends the Aggressive 80% stock, 20% bond Investment Plan. For those invested in a similar plan the last handful of years have been great. But that has made the past couple of weeks that much more painful. Checking in to see thousands of dollars of declines in an account is no picnic.
But goals-based investing invites us to look at the long-term. For a goal set 30 years in the future, there is no need to access this bucket of money right now. The chart below gives a better picture of the different stock and bond allocations by showing the best years, worst years, and average returns over the last 28 years.*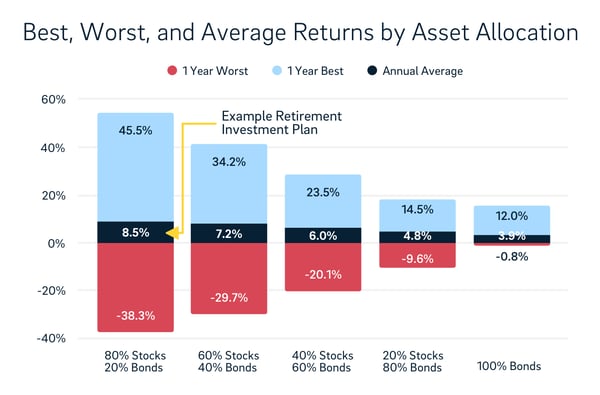 Investing for a retirement that's years away? It's important to lift up your eyes from those red lines of potential one year losses and look squarely at the blue "Annual Average" returns. Market history shows that bull markets tend to outlast bear markets. To capture those higher average returns means exposing investments to swings that include happy years with large gains, as well as worse years with large declines.
It's never fun to see your net worth drop, but I invite you to join me in paying closer attention to your Retirement Goal in BrightPlan than your Retirement Accounts. The goal includes all your retirement assumptions, including your planned retirement date, desired income, and current investment balances. It also includes your future planned savings and income streams like social security.
BrightPlan crunches all of this information to tell you whether your Retirement goal is on track or needs attention. If your goal is still on track, there's no need to panic. This is the beauty of a goals-based plan. Because your plan starts by taking into account market volatility, it doesn't generally require changes when inevitable market changes come. Not needing to worry about daily market changes allows you to focus on things you can control, like sticking to a solid budget, continuing to fund retirement accounts, and taking care of the people you love in a stressful time.
What if I'm Closer to Retirement?
If you're closer to retirement you may be thinking, "Jeff, this is great for you and your Millennial pals, but what about me? I'm 60 years old and watching my hard-earned savings drop fast." That's a great question and one I've visited frequently with my parents over the last few weeks.
First, review your Investment Plan. Your Retirement Investment plan should be personalized to your circumstances. For those closer to retirement who may have less ability to weather large losses in their portfolio, BrightPlan typically recommends a more conservative plan with less stock market exposure. A more conservative allocation could mean less exposure to large market swings.
Second, remember that retirement usually lasts multiple decades. Just because you're about to retire doesn't mean it's time to abandon the stock market. Your recommended Investment Plan will likely still include stocks. Even if you are in your early 60s, you still may be counting on those investments to help fund your lifestyle for 30 years or more. BrightPlan calls this your "withdrawal timeframe", and it's an important fact to remember as you consider your plan.

Third, consider discussing your plan with an advisor. On the cusp of retirement, there are many things to talk to a professional about. If stock values stay here you may want to prioritize withdrawals from cash and bond holdings to give stocks time to recover. You could accelerate savings through catch-up contributions in the next few years. And you might actually be fine and just need someone to tell you so. The importance of these interactions during volatile times is one reason BrightPlan provides access to human advisors directly from the platform.
Putting a Goals-Based Investment Plan in Place
If reading this made you wish you had a goals-based investment plan in place before the downturn, now is still a good time to put a plan in place. In fact, the downturn may make it easier to adopt a new strategy for two reasons. Market shifts may have opened your eyes to the need for a new strategy, and recent investment losses may reduce the taxes you would pay to make a change.**
Market movements don't have to knock the wind out of you. BrightPlan can be the team in your corner encouraging you to get back on your feet. Companies provide our comprehensive financial wellness solution to help employees effectively navigate not just bear markets, but all of the financial moments that matter.
Interested in learning more and helping both you and your colleagues to put a goals-based investment plan in place? Click here to connect with us.
---

Notes: This material has been prepared for informational purposes only and should not be used as investment, tax, legal or accounting advice. All investing involves risk. Past performance is no guarantee of future results. Diversification does not ensure a profit or guarantee against a loss. You should consult your own investment, tax, legal and accounting advisors.
* All charts and references to average annualized return, best and worst 1-year return data (net of estimated advisory and custodial fees) for these allocation are based on a 28-year period, from 1991-2018. This information represents the returns of broad market indices calculated with the benefit of hindsight for the time periods shown, and does not represent actual trading using client assets. BrightPlan began managing clients' assets in 2017, and the historical results should not be construed as a representation or guarantee of future returns. You cannot invest directly in an index. Total returns assume reinvestment of dividends and other income and capital gains, calculated net of advisory fees and trading costs.
The historical return data shown above assumes that all money is deposited in full at the beginning of the stated investment time horizon (January 1, 1991), with monthly rebalancing. The act of withdrawing or depositing funds to your account would materially change your returns. It should not be assumed that an actual client account managed by BrightPlan according to a model Portfolio will be profitable or provide the same or similar results. Investment returns and principal value of an investment will fluctuate and losses may occur. Diversification does not ensure a profit or guarantee against a loss.
Stock returns are calculated based on a blend of US Equities represented by the Russell 3000 Total Return Index and International Equities represented by the MSCI ACWI Ex US GR Index; and Bonds are represented by the Barclays US Government/Credit 1-3 Year Index. BrightPlan invests clients' assets in mutual funds and ETFs, which charge their own management fees and expenses, while the indices represent stocks and bonds and the indices' returns do not reflect any deductions for fees, expenses or taxes paid by investors. The indices' current performance may be higher or lower than performance data shown.
** Consult with your tax advisor before making any tax-related decisions.