SHRM 2022: DE&I and Employee Wellness Take Center Stage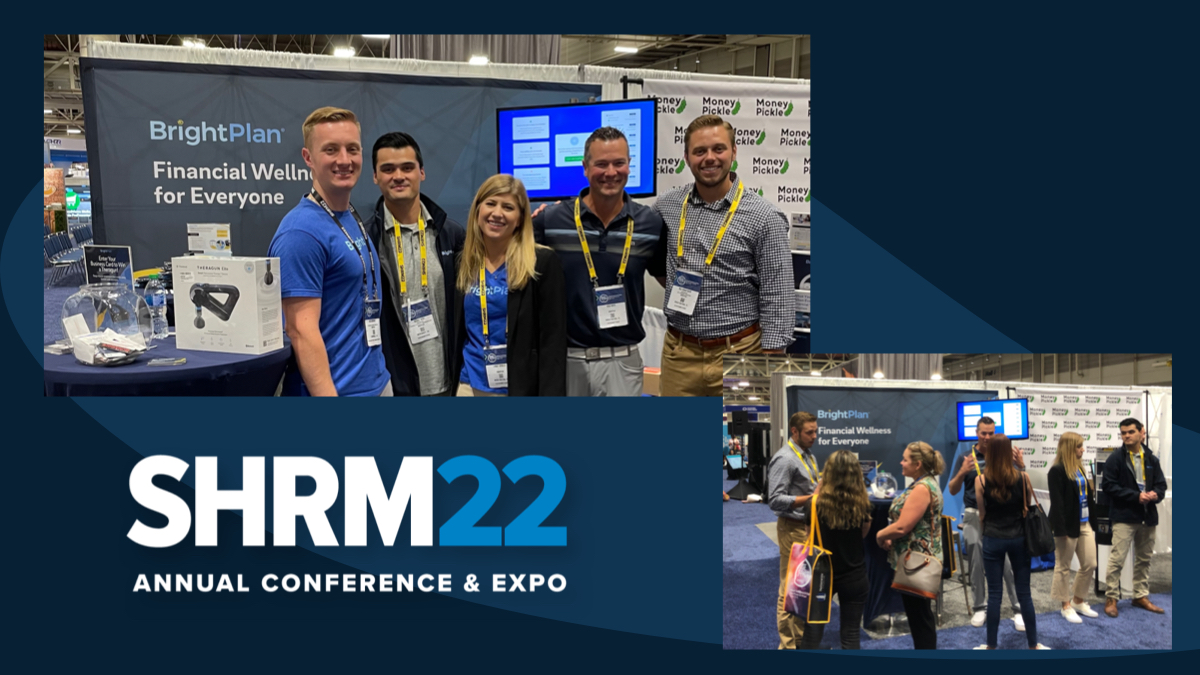 This year's annual SHRM Conference took place in New Orleans and ran from June 12, 2022 to June 15, 2022. With in-person events back in full force, it was great to see the energy from the attendees and vendors! The BrightPlan team enjoyed being part of the action and meeting with People functional leaders and industry experts that are shaping the future of the HR landscape. Here are of some of the highlights:
Keynote speakers
Former President George W. Bush sat down with SHRM President and CEO Johnny C. Taylor to talk about leading and managing through critical times and adversity, particularly salient as we start to come out on the other side of the pandemic. President Bush joined a lineup of over 200 speakers at SHRM22.
In his presentation, SHRM President and CEO, Johnny C. Taylor, asked the thought provoking question: "Is HR a thermometer or a thermostat?" Thermometers simply measure the temperature, but thermostats adjust the temperature. He said, if we're going to significantly change the workplace, HR leaders are going to have to become thermostats by: creating a positive mental health environment, building a productive organizational culture, and focusing on skill-building and alternative credentials.
BrightPlan "knocked the socks off" of attendees
The BrightPlan booth was abuzz with demos and fun giveaways. Visitors were asked how their employees are currently "socking away" money for the future and left with a pair of lively socks. We also gave away prizes that focused on wellness and included drawings for Theragun massagers. And the buzz for booth visitors was pong!
HR leaders continue to face unprecedented challenges
Conversations in the BrightPlan booth focused on the myriad of challenges HR leaders are facing today. With financial stress at an all-time high, mostly due to concerns related to rising inflation, market volatility and retirement planning, employees are turning to their employers for help. They're looking for comprehensive solutions that extend beyond a basic 401(k) program; that can help them with budgeting, retirement planning, debt pay-down, financial literacy, investing and more.
The Great Resignation has businesses prioritizing strategies that aim to support the personalized and varied needs of their workforce. We heard from many attendees that they're placing greater emphasis on building a Total Rewards program with the right mix of benefits to better attract, retain and engage talent. Diversity, equity and inclusion (DE&I) is also top of mind. When rolling out any new benefits program, HR leaders are challenged with gleaning data and insights on whether it's meeting the needs of diverse employee populations. Solutions that can demonstrate measurable impact, and for specific employee populations, are a key component to helping build and sustain a culture of inclusion and belonging.
One thing was clear: Wellness took center stage
While there were a number of content tracks at the conference, employee well-being, workplace culture, and empathy were recurring themes. Employees want to feel cared for and know that their employer understands their needs both at work and in their personal lives. Wellness solutions that are holistic and address the physical, mental, social, and financial well-being of diverse employee groups are central to that equation.
In case you missed us at SHRM, we'd love to connect and show you how BrightPlan's Total Financial Wellness solution can help you enhance the holistic well-being of your employees and better attract and retain talent. Book a demo today.