The High Cost of Low Engagement: Keeping Employees Happy and Healthy in the Post-Covid Era
webinar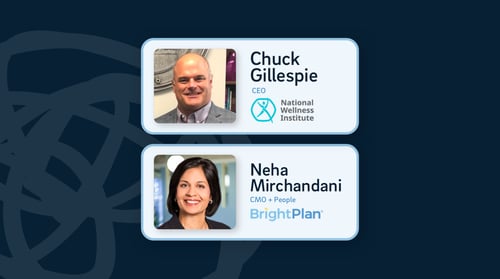 The past year-plus with the COVID-19 pandemic has created unprecedented challenges for employers, HR teams and the employees they serve. What has been the impact of this on employee well-being and engagement? How has the employee/employer relationship, trust and the perception of HR changed?
To answer these questions and more, join Chuck Gillespie, CEO of the National Wellness Institute and Neha Mirchandani, Chief Marketing & People Officer at BrightPlan for an insightful session on the latest trends related to employee well-being and engagement -- and what's top of mind for employees post-pandemic.
This HR.com-hosted webinar will also unveil insights from a hot-off-the-press in depth BrightPlan survey looking at the state of wellness in today's workplace.
Key learnings include:
Who is the unsung hero of the pandemic (hint: you may need a mirror!)
The impact of COVID on employees and employers
The state of employee finances -- and the high cost of financial stress
What employees want and the role of employers in supporting them