Engaging Bread Financial's Workforce with Financial Wellness and Holistic Well-being
Case Study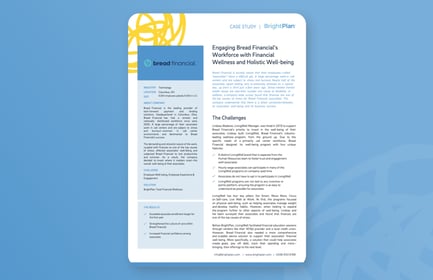 Bread Financial is acutely aware that their employees—called "associates"—have a difficult job. A large percentage work in call centers and are subject to stress and burnout. The company also understands that there is a direct connection between its associates' well-being and business success. To take their LivingWell initiative to the next level, Bread Financial needed a more comprehensive and scalable financial wellness solution to support their associates' financial well-being.
Read this case study to learn more about:
Bread Financial's challenge with improving their associates' well-being
The thoughtful approach Bread Financial took to designing their well-being program
How BrightPlan amplifies the company's benefits offering and enables Bread Financial to take their well-being program to the next level by increasing benefits optimization
Disclosure: This case study includes a statement about BrightPlan made by a current client. BrightPlan did not provide any compensation in exchange for this statement.