Economic Uncertainty: The Toll on Employee Well-being & Organizational Success
On Demand Webinar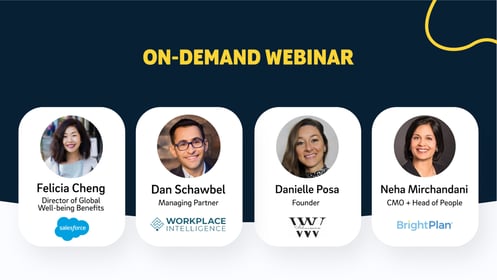 High inflation and the threat of a recession are creating an elevated level of unease and unpredictability in the market. Employees are struggling with financial instability as stress skyrockets and concerns over job security grow. Employers are similarly under immense pressure to drive cost and operational efficiencies. As the economic landscape continues to evolve, companies are seeking new ways to support their people while managing expenses.
Listen to this insightful session on the latest trends related to employee well-being -- and what's top of mind for employees, HR leaders, and the C-Suite in the current market environment.
Hear from senior HR leaders from Salesforce, Workplace Intelligence, and Workplace Wellbeing Advisors as they discuss their real-life experiences and share best practices for addressing ongoing employee stress that impacts productivity, amid heightened economic uncertainty.
Disclosure: This session may include statements about BrightPlan by current clients. BrightPlan is not providing any compensation in exchange for these possible statements.