A New Era of Employee Wellness: 6 Trends to Watch in 2023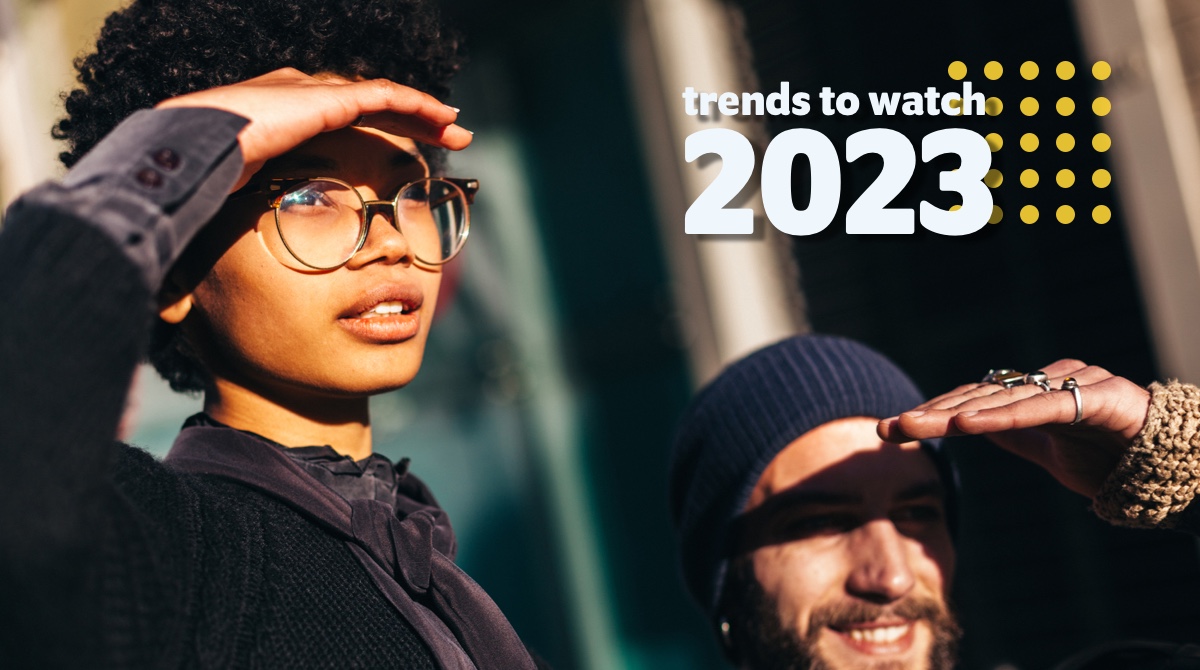 As we embark on the New Year, it's important to reflect on what's most important—our people. After nearly three years of a pandemic, the workforce continues to face a slew of personal and professional challenges. Rising inflation, market volatility, continued burnout, and elusive caregiving support are just some of the issues plaguing employees today. Nearly two-thirds of employees say they are stressed all or most of the time at work and Willis Towers Watson found that employers' biggest well-being challenges are rising stress and burnout and higher mental health-related claims. Stress can lead not only to lower workplace productivity and engagement but also adverse health effects, increased missed workdays, and higher healthcare costs.
Amid this workplace environment, 78% of employees are prioritizing work/life balance, 38% are seeking greater mission and purpose, and 25% want to take a break from work, according to the BrightPlan 2022 Wellness Barometer Survey. There's also a new generation of workers demanding change: millennials and Gen Z who now make up 76% of the workforce. These employees are looking for mission-driven work, increased flexibility, digital-led solutions, and career development support.
These workforce priorities are ushering in a new era of employee wellness. Companies need to meet employees and their families where they are and support them holistically—both in work and life. Doing so will have a consequential impact on employees' lives and will be a key enabler to business success in 2023.
Looking ahead, more employers will prioritize supporting their people's well-being holistically, addressing the physical, mental, social, and financial needs of an increasingly diverse workforce. Here are six employee wellness trends to watch for this year:
Healthcare affordability
Rising inflation is having a disproportionate effect on healthcare costs. In 2023, employers will focus on improving healthcare affordability by making telemedicine more accessible and lowering or eradicating employee premiums. According to Mercer's Health & Benefits Strategies for 2023 report, employers will expand traditional telemedicine to include behavioral and primary care services. 52% of employers will offer virtual behavioral healthcare and 40% will offer virtual primary care. In addition, 11% of employers will provide free employee-only coverage (no employee premiums) and another 11% are considering it.
Women's health & family-friendly benefits
In addition to making healthcare more affordable for employees, employers will also pay close attention to the needs of women. As a result of a range of societal and economic pressures, women tend to prioritize the needs of their families over their own preventive healthcare. They also experience unique challenges accessing high-quality healthcare targeted toward their specialized needs. In 2023, businesses will look to better support women in the workplace with expanded access to breast cancer screenings, screening and counseling for domestic violence, preconception family planning, pregnancy loss support, and lactation and postpartum support. Employers will also increasingly recognize the importance of supporting their employees through the emotional and financial challenges of family-building and caregiving. We expect an increased emphasis on fertility benefits, adoption assistance, and expanded parental leave as well as back-up or on-site childcare services, dependent and elder care support, and more flexible work arrangements.
Financial wellness
72% of employees are stressed about their finances and as a result financial wellness is now the number one most desired employee benefit, followed by mental health support and flexible time off. With continued high inflation and ongoing economic uncertainty, this stress will likely only heighten in 2023 and employees will increasingly turn to their employers for help. According to Bank of America's 12th Annual Wellness Benefits Report, 97% of employers feel responsible for employee financial wellness (up from 95% in 2021), making financial wellness a key focus area for 2023.
Social responsibility
Employees are deeply concerned about the state of the world and are actively trying to balance the stressors of their everyday lives with their desire to drive societal change. As a result, they're placing increased importance on working for companies that prioritize social responsibility, especially millennials and Gen Z employees. Nearly half state that their personal ethics and beliefs have played a role in their career choices. To empower employees to be more involved in causes that are important to them, in 2023 companies will prioritize social responsibility efforts, including charitable donation funds, providing employees with time off to volunteer and give back, and creating or strengthening partnerships with local philanthropy efforts.
Career development
Motivating employees to lean in with the resources and opportunities needed to achieve their goals can boost employee retention, which will make upskilling and training a key priority for many businesses this year. Current economic conditions and rapidly evolving business needs have redefined the skills employees need to remain agile, successful and achieve business goals. Further, in recent months an increasing number of layoffs has put heightened pressure, workload and responsibilities on many remaining employees who have to take on tasks they may have never done before. In 2023, employers will focus on closing the skills gap to ensure employee capabilities align with current business needs.
Data to enable employee well-being
Data will be critical for employers in their quest to address employee wellness in a more holistic manner. Listening to employee pain points and needs, curating the right support, tools and benefits in response, driving benefits engagement and utilization, and gauging what's working and what's not, requires real-time data and insights. In 2023, HR teams will rely heavily on this intelligence and the ability to analyze employee behaviors and needs by demographic and location, which will ultimately empower them to better support their people, improve decision-making, drive personalization, and demonstrate ROI.
Final Thoughts
2023 will be the year that employee experience and well-being take center stage for both companies and workers alike. Shifting employee needs, rising burnout and ongoing economic uncertainty have created a new paradigm of employee wellness. Employers need to step up and respond in kind with the resources and support their people need in the moment, fostering a culture of care and belonging that drives long-term employee and business success.