Economic Uncertainty: The Toll on Employee Well-being & Organizational Success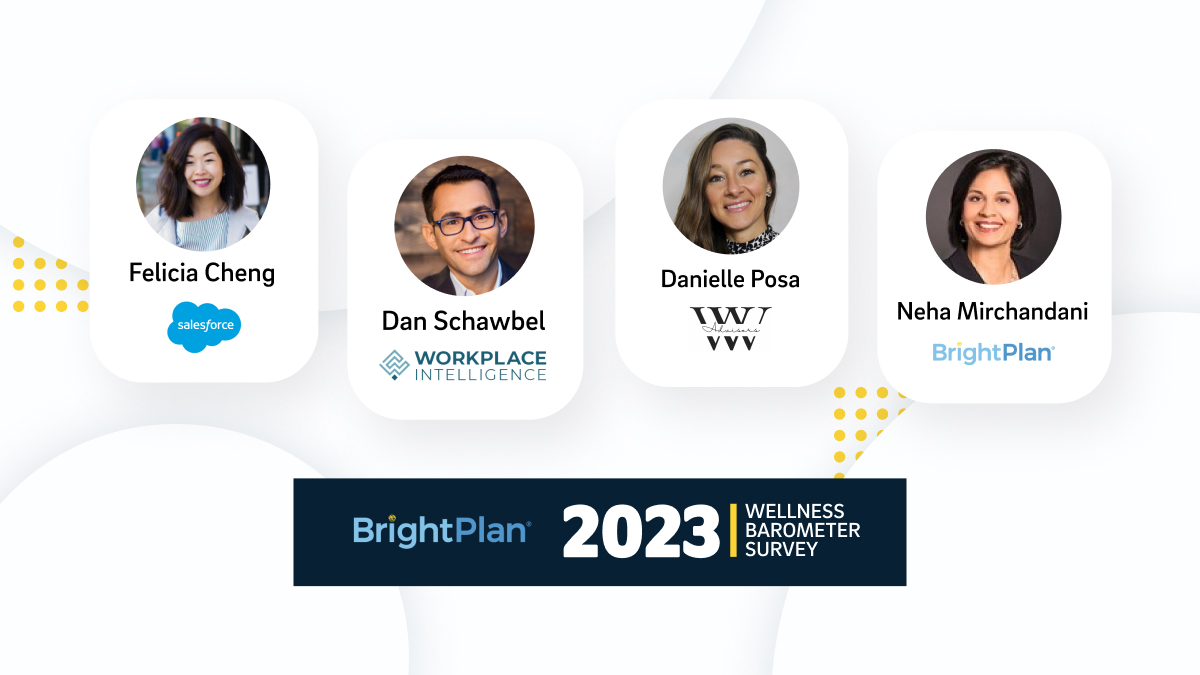 Did you miss the live webinar? Watch the recording now and explore the results of the BrightPlan 2023 Wellness Barometer Survey.

High inflation and the threat of a recession are creating an elevated level of unease and unpredictability in the market. Employees are struggling with financial instability as stress skyrockets and concerns over job security grow. Employers are also under immense pressure to drive business stability and growth while keeping cost and operational efficiencies top of mind. As the economic landscape continues to evolve, companies are seeking new ways to support their people while managing expenses.
BrightPlan recently hosted a webinar unveiling findings from our 2023 Wellness Barometer Survey followed by an engaging panel discussion on what's top of mind for employees, HR leaders and C-Suite in the current market environment. The session featured Felicia Cheng, Director of Global Well-being Benefits at Salesforce, Dan Schawbel, Managing Partner of Workplace Intelligence, Danielle Posa, Founder of Workplace Wellbeing Advisors, and Neha Mirchandani, CMO & Head of People at BrightPlan.
Here are some key takeaways from the session:
Economic concerns have skyrocketed
92% of employees are stressed about their finances due to high inflation (96%), a potential recession (93%), rising interest rates (90%) and market volatility (89%). This is having a huge impact on businesses. On average, each respondent is losing 8.1 hours of productivity every week due to financial stress, costing US businesses potentially nearly $200B annually in lost productivity and engagement.*
Financial preparedness is low
Despite economic stress being high, financial preparedness continues to be low. Only 18% of respondents have basic financial literacy. 85% have debt and 35% have no emergency savings or only enough for up to 2 months. Though a majority of respondents are saving for retirement, 52% are saving either nothing at all or less than 10% of their income each year.
In comparison to the data from the survey, Felicia shared that Salesforce employees generally feel in control of their finances, are less stressed about their finances and have higher financial wellness scores in comparison to the broader market. However, there's always an opportunity to continue to educate employees because finances are so personal. In partnering with BrightPlan, Salesforce has been able to better identify the diverse needs of their workforce and uncover which employee populations need the most help and in what specific areas. Salesforce also conducts targeted education sessions for their many Employee Resource Groups in partnership with BrightPlan, such as Boldforce, Genforce, Abilityforce, and Salesforce Women's Network.
Financial stress is impacting relationships
64% of respondents say financial stress has worsened their relationships with friends and family. 72% have made at least one social sacrifice due to their financial situation, including passing on an invitation to get drinks or food and skipping important events like weddings or birthdays because they couldn't afford to buy a gift. Additionally, there is a stigma around finances. Just 56% of employees say they feel open and comfortable talking about their financial situation with others.
Dan noted that social well-being is an essential component of an employee's success because it can impact their overall happiness, health, and productivity. Having strong relationships with colleagues and feeling a sense of belonging and purpose at work can lead to increased engagement, job satisfaction, and retention. Employers can help by providing employees with financial support for social activities with things such as gift cards to local restaurants or organizing team happy hours and other outings.
Employee well-being is a top business priority
Leaders recognize that their employees are struggling and they want to help. HR and C-Suite's biggest people-related challenges this year are supporting employees' holistic well-being and enabling employee growth through learning and development. This is in stark contrast to the challenges that faced leaders a year ago when attracting or retaining talent and engaging employees topped the list. Additionally, an overwhelming majority of leaders (95%) state that employers should help employees with their financial well-being. Doing this in the current climate while keeping cost sensitivities in mind is a balancing act.
During the panel discussion, Danielle raised the perspective that organizations need to reexamine how they think about employee well-being. Rather than perceive it as a cost, it should be viewed as a way to reduce costs. When employee well-being is prioritized, especially during challenging or uncertain times, businesses will reap the benefits of a more engaged, productive, and resilient workforce, leading to long-term success and sustainability.
Employers need to improve financial benefits and drive utilization
Despite the importance leaders place on financial wellness, employees are asking for more support and better financial benefits. Less than half (48%) of employees agree their company offers them the financial guidance, support, and tools they need to achieve their life goals. 74% of employees are not satisfied with their company's financial benefits and 1 in 4 don't even know if their employer offers financial benefits beyond retirement matching and stock options.
Felicia noted that "The macro-economics and environment around us are forcing us to get real about all of our benefits offerings and deeply understand which ones really matter. Most benefits professionals you'd speak with can tell you that the number one challenge they face is employees not knowing what benefits are offered by their company. So, this is actually an opportunity for us to refresh our portfolio and provide real value to our employees." Salesforce leverages an internal system that helps connect the dots for employees on all of the support available to them. For example, if an employee is looking for resources on parental leave, it will also direct them to other relevant support, such as financial and mental health offerings. Additionally, they work to bring in employee stories by actively sharing employee testimonials about how various benefits have supported their life journey.
Employer trust is declining
Feelings of trust, safety and belonging have declined significantly this year. Only 63% of employees trust their HR and upper management (compared to 83% in 2022) and only 61% believe leaders at their company are empathetic. 64% agree that their organization places more importance on profits and bottom line than employee well-being.
The data also reveals some staggering disconnects between how employees feel and how leaders think they feel. Just 9% of employees say their financial situation is "excellent," but leaders estimate that 26% of their workforce has an "excellent" financial situation. And while 94% of leaders say their company offers employees the financial guidance, support, and tools they need to achieve their life goals, compared to 48% of employees.
Danielle explained that leaders want to do something about employee well-being and have more positive intent than employees might think. But, employees are looking at their day-to-day work lives and finding that their experience doesn't necessarily match with what senior leaders are saying. For instance, communications between employees and leaders may come across as transactional or they might feel micromanaged or asked to do more than they can possibly get to in a day. The divide between what leaders want to do to help and what employees are experiencing in their day-to-day work lives is causing a large disconnect.
To optimally address employee challenges, companies need to have a real-time pulse on their diverse and global workforce's shifting needs—and this requires data and insights. Armed with data, employers can proactively offer targeted solutions and benefits that not only improve employee well-being but also drive productivity and engagement, ultimately contributing to a healthier bottom line.
To learn more about the findings from BrightPlan's 2023 Wellness Barometer Survey, explore the eBook.
Disclosure:
On behalf of BrightPlan, Walr and Workplace Intelligence surveyed 1,400 knowledge workers at companies with 1000+ employees in the US between February-March, 2023.
Assumes there are 100,206,000 knowledge workers in the U.S. with an hourly wage of $38.6. 24% of knowledge workers have high or very high levels of financial stress and 48% of them have 8.1 hours of lost productivity per employee per week as a result of financial stress. Source: Federal Reserve Economic Dataset, BrightPlan.
This post includes statements about BrightPlan by current clients. BrightPlan is not providing any compensation in exchange for these possible statements.