Total Rewards Strategies for the Future of Work: Wellness Benefits are Key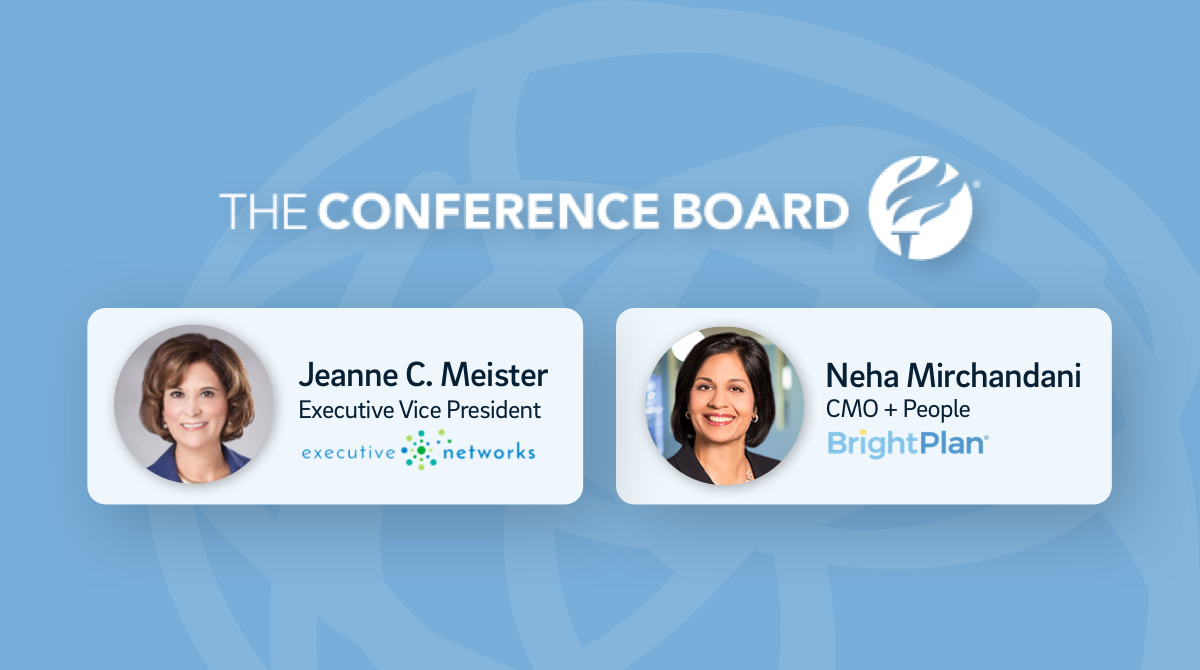 The challenges of the past year and a half have led to increased stress and uncertainty for employees. With the new reality of hybrid and remote work, the continuing war for talent, and an increased incidence of employee overwhelm and burnout, HR leaders are looking to redefine the employee experience by offering holistic wellness benefits that bring empathy, care, and a more human touch into the workplace.

The Conference Board recently hosted a webinar, featuring Jeanne Meister, Executive Vice President, Executive Networks and Neha Mirchandani, Chief Marketing Officer and Head of People at BrightPlan. The live event, Total Rewards Strategies for the Future of Work: Wellness Benefits are Key, uncovered leading insights for developing and communicating a next-generation Total Rewards strategy to better attract, retain, and engage talent.
Here are some takeaways from the session:
1. The Time for Change is Now
HR leaders are navigating the future of work amidst unprecedented change, and many of the new ways of working brought on by the pandemic are here to stay for the long-term. According to the Society for Human Resources, 70% of employed Americans would prefer to work remotely on a full-time or part-time basis if given the option, and 35% would accept a salary reduction in return for that flexibility.
Close to two years into the pandemic, and the war for talent continues as a substantial number of workers have already switched jobs (4.3 million workers quit their jobs in August 2021 alone), and more (46%) are actively seeking new opportunities. This trend termed "the Great Resignation" is fueled by a variety of factors, most notably employee burnout and mental and financial stress. The blurring of lines between work life and home life, unmanageable workloads, and worries over their financial future are leading to greater symptoms of prolonged and acute stress in employees.
2. Forward-thinking Companies are Looking to the Future of Total Rewards
In response to the issues above, a growing number of employers are actively looking to create and communicate a culture of care through a Total Rewards program that's rooted in holistic wellness.
Total Rewards is defined as a mix of monetary and non-monetary benefits used to attract, retain, and engage talent and distinguish a company as an "employer of choice". They have traditionally focused on compensation and conventional benefits, such as health insurance and 401(k) plans.
Today, employers must move beyond this traditional view of Total Rewards to encompass holistic wellness programs that focus on elevating the employee experience. Employees want personal and professional growth opportunities, career mobility, flexibility in their work environment, and a balance of compensation and benefits that make them feel secure. Companies can demonstrate their commitment to their people and better attract and retain talent by offering the right mix of Total Rewards.
3. Financial Wellness is a Powerful Lever to Holistic Well-being
Financial wellness is when an individual can meet their financial obligations, feel secure in their financial future, and have the freedom to make choices to enjoy life. In the past, many employer-driven financial wellness initiatives were focused primarily on supporting a subset of employees: high-net-worth executives. Today, more companies are committing to building financial wellness as a key lever to enabling the holistic well-being of all their employees.

As most of an employee's financial life is tightly connected with their employer as the primary source of income, companies are viewed as a trusted source of financial information. BrightPlan's 2021 Wellness Barometer Survey found that over 80% of employees want support and guidance from their employers on personal finances—not only for retirement and financial education, but also financial planning, investing, and day-to-day money management. There is also a growing sense of employer responsibility to address these concerns. According to the Bank of America 11th Annual Workplace Benefits Report, 62% of companies feel extreme responsibility for their employees' financial well-being.
When financial wellness is tightly integrated with a company's Total Rewards strategy, organizations can better guide employees on their life journey to achieve their financial, personal, and career goals.
4. Awareness of Your Total Rewards Program is Critical
For Total Rewards to have a positive impact on the employee experience, employees must first understand all the benefits available to them and how to take advantage of them. It's essential to develop a robust communications strategy that includes awareness, education and decision support. The more your employees understand the scope of your Total Rewards program, the more likely they are to leverage these important benefits and appreciate the value it provides to them and their families.
Your communications strategy should incorporate these key tenets:
Simplicity

: Simplify communications so they're easy to digest, describing not only the various benefits and perks, but also how to take advantage of them.

Branded to your employee value proposition

: Give your Total Rewards communications a consistent look and feel so that they stand out. Additionally, communicate the underlying philosophy behind your offering, such as flexibility and choice, for example.

Multi-channel

: Leverage a variety of channels to reach your employees, such as: email, video, team messaging channels, all-hands meetings, webinars and Q&A sessions.

Personalized

: Messages should be targeted to specific groups, highlighting benefits and programs that are most relevant to them. For example, some employees may be more focused on paying off student debt, while others may be preparing for retirement.

Self-service

: Provide an easy way for employees to ask questions about their Total Rewards. Create a Q&A document, make sure your benefits portal is up-to-date, and provide a point of contact so that employees know who they can reach out to if they need help.
The Future of Work is here, and organizations must adapt. In the midst of accelerated change in why, how, where and when people work, companies must find ways to create more meaningful and lasting emotional connections with their employees, or they will end up on the losing side of the war for talent.