5 Must-Haves for a Holistic Financial Wellness Program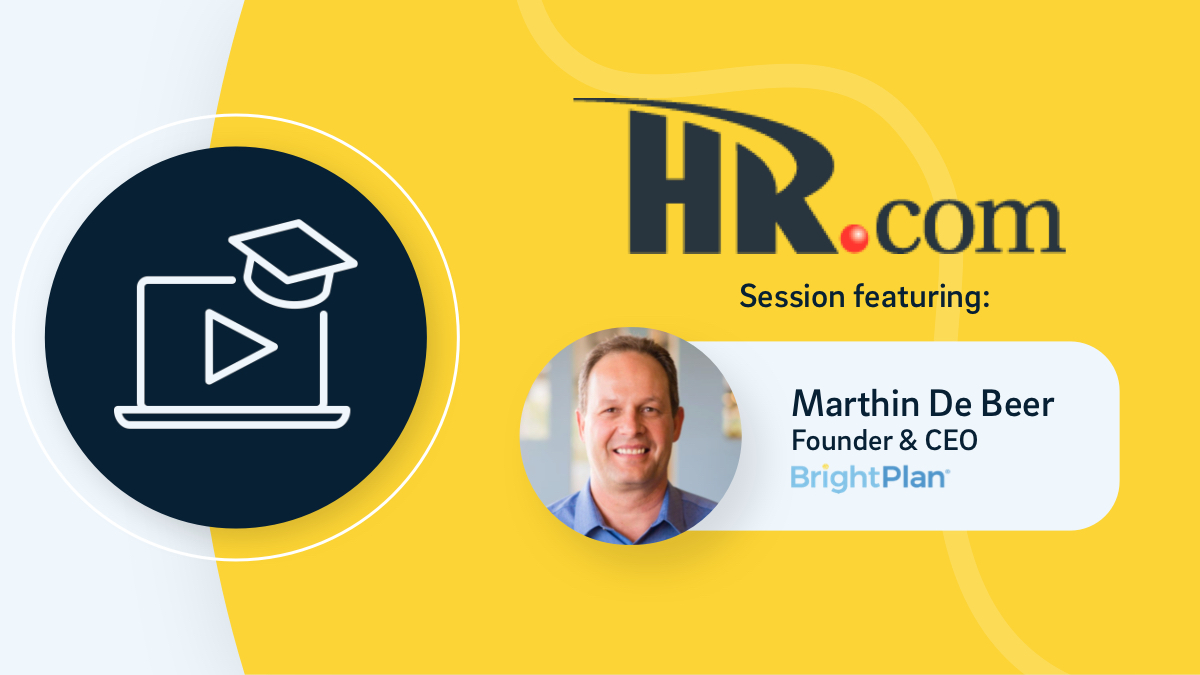 Did you miss the live webinar? Watch the recording now.
The challenges of the past two years have resulted in increased employee stress and uncertainty, leading a large portion of the workforce to seek new job opportunities or pursue other life priorities. With the war for talent raging on, HR leaders are looking for ways to redefine the employee experience. Holistic wellness benefits that address employees' physical, mental, financial and social well-being can help bring empathy, care, and a more human touch into the workplace.

HR.com recently hosted a virtual Financial Wellness event. During the conference, Marthin De Beer, founder and CEO of BrightPlan, led a session on 5 Must-Haves for a Holistic Financial Wellness Program. He shared why financial wellness needs to be a core component of an organization's employee well-being strategy along with actionable steps and real-world examples for building a successful financial wellness program.
Here are the key takeaways from the session:
Employee Stress Has Skyrocketed
Employee stress is at an all-time high. Notably, more women (62%) than men (52%) reported feelings of stress on a daily basis, likely due to increased caregiving responsibilities and greater financial uncertainty spurred, in part, by working in industries most disrupted by the pandemic.
While sources of stress are individual and varied, the BrightPlan 2021 Wellness Barometer survey revealed that finances are the number one cause of stress for employees, with 65% reporting being financially stressed. Stress in any one dimension of well-being can negatively impact other aspects of well-being, making financial stress and physical and mental health tightly connected. The financial impact to organizations can also be significant. Financially stressed employees report an average of 15.3 hours of reduced productivity and engagement each week, costing U.S. employers nearly $5 billion per week*.
Our current reality calls for organizations to prioritize their employees' holistic well-being if they want to attract top talent, drive employee engagement, and build an inclusive workplace culture.
Financial Wellness is an Employer Responsibility
In the past, many employer-driven financial wellness initiatives were focused primarily on supporting a subset of employees: high-net-worth executives. Today, more companies are committing to building financial wellness as a key lever to enabling the holistic well-being of all their employees.
As most of an employee's financial life is tightly connected with their employer as the primary source of income, companies are viewed as a trusted source of financial information. BrightPlan's 2021 Wellness Barometer Survey found that over 80% of employees want support and guidance from their employers on personal finances—not only for retirement and financial education, but also financial planning, investing, and day-to-day money management. There is also a growing sense of employer responsibility to address these concerns. According to the Bank of America 11th Annual Workplace Benefits Report, 62% of companies feel extreme responsibility for their employees' financial well-being.
When financial wellness is tightly integrated with a company's Total Rewards strategy, organizations can better guide employees on their journey to achieve their personal and career goals.
A Holistic Financial Wellness Program is Personalized and Integrated

Traditionally, programs such as a 401(k) or pension plan have made up the extent of an employer's financial wellness offering. While retirement planning is an important component of a financial wellness package, it's just one element of Total Financial Wellness. A holistic financial well-being program needs to address the needs of employees at every stage of life and include financial education, access to human financial planners, and the ability for employees to invest and track and manage finances.


Digital & Human: Employees should have the convenience and support of 24/7 access to financial education and money management tools paired with experienced financial

planners

.

Planners

can spot gaps in a financial plan, give valuable validation that employees are moving in the right direction, and answer specific and personal questions about an employee's finances.
Benefits Optimization: Look for solutions that offer tailored education and financial

Planners

trained in other benefits that you offer, such as your 401(k), HSA, and stock compensation plans. This integration can help drive utilization and engagement of your entire benefits program.
Personalized & Equitable: To promote inclusivity and belonging, it's important for the solution to be accessible and embrace employees' unique values and perspectives. It should support employees at every stage of life and with varying financial goals, whether that's paying off debt, buying a home, or preparing for retirement.
Data & Insights: Look for a solution that provides insights and analytics into employees' progress toward their financial goals and overall utilization of the program. This gives clarity into the adoption and success of employee financial and holistic well-being initiatives. Data should also be segmented by demographics to provide insight into the needs of different employee populations, enabling HR to drive customization and improved decision-making.
Fiduciary Standard: It's critical to look for a solution that delivers independent, objective financial advice that is always in the best interests of employees. Look for solutions certified by an independent third-party to ensure adherence to the fiduciary standard.
Organizations must continue to prioritize employee financial wellness and overall well-being to attract top talent and build an inclusive workplace culture. Solutions that are holistic and address the physical, mental, social, and financial well-being of diverse employee groups are central to creating more meaningful and lasting emotional connections with employees.

To learn more, watch the on-demand webinar.


*Assumes there are 94,257,000 knowledge workers in the U.S. with an hourly wage of $35.53. Source: Federal Reserve Economic Dataset. For more information, see the full report.